Here's what you need to do to get signed up as an affiliate for Nature Hills.
1) Go to ShareASale and signup as an affiliate. If you are already an affiliate, sign in.
2) Click on the link that says "View those with Datafeeds" under the Find/Join Merchants title.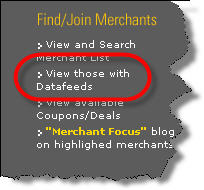 3) In the keyword search box type "garden" and change the Show me merchants programs that … to "Both – show me all."
4) Find Nature Hills Nursery.
5) Click on "Join Program"
Typically Nature Hills auto accepts and you are ready to go.