If you are into nanoblogging, then you will be using the WordPress Thesis theme.
In the manual, Peter Spaepen says the following:
Please, don't second guess me on the things I try to teach you in nanobloggers – this works and it works very well, just stick to the plan.
Part of the plan involves building a WordPress blog using the premium, i.e. – paid, Thesis theme.
For some people who buy the Nanoblogger's guide, this is going to be a stopping point.
That's where I come in. I'm here to make sure those that purchase the Thesis theme through my affiliate link (yes, I make money) get their blog setup the right way, the way Peter details in the manual.
You'll have access to my WordPress builder that installs WordPress.
This WordPress builder:
sets up the Thesis theme with the correct number of columns (very important for nanobloggers) and width size
loads up the custom.css file
changes the size of the post box
updates the "Update services" to the proper services 🙂
modifies the Thesis options (Document Head, Home Page, Bylines, Administration), chooses one of the two recommended fonts, sets the color
installs and configures the seven (not just the six mentioned on page 52) plugins
sets what gets displayed on the front page along with setting "Blog pages show at most" and "Syndication feeds show the most recent"
gets rid of the MAJOR footprint that this setup has
Peter says it usually takes him about a hour, "soup to nuts", when he starts his nanobloggers WordPress. I suspect that for most people, this won't be the case. In particular the first few times.
I have been through the process a number of times now and can have WordPress setup to the Nanoblogger specifications in less than 5 minutes on a brand new domain.
Purchase the Thesis through my affiliate link and I'll give you access to the WordPress Thesis Nanoblogger builder or I'll build the site for you.
Shoot me an email via the contact form on this site with your purchase information and I'll get back to you.
Update (29 December 2009):
The WordPress builder now works with addon domains that follow the public_html/addon.com/ format. I verified that this works with Hostgator.

Keep in mind that this works on an empty domain in the root directory (or the addon directory). Does not work on subdomains.

You'll need at least 50M of free disk space.

cPanel passwords need to be alphnumeric.
Dave
P.S. – It takes 5 minutes or less to get setup
1) Start with an empty, standalone domain – can NOT be an addon domain. – UPDATE: works with addons that follow the public_html/addon.com/ format such as Hostgator.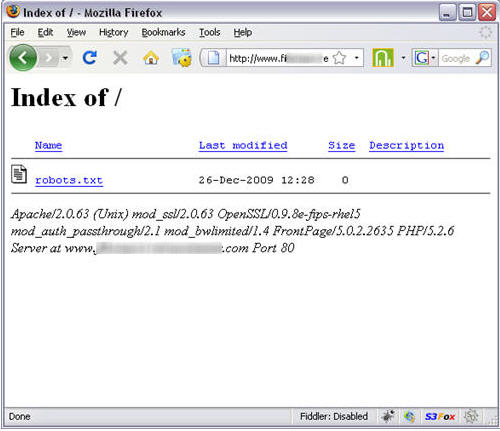 2) Enter in your WordPress details; title, tagline, cPanel username, cPanel password, url, first name, email, hosting (hostgator or other), theme (x3 is default these days)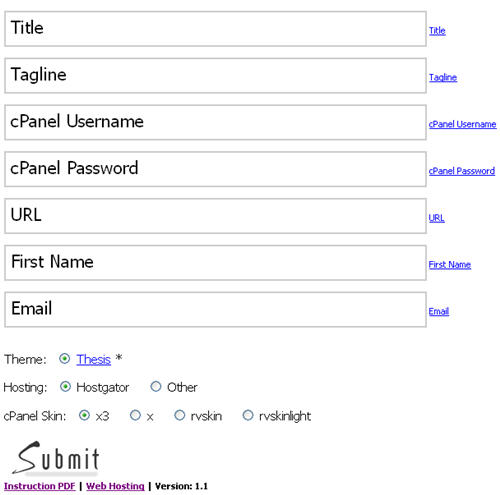 3) Click "Submit"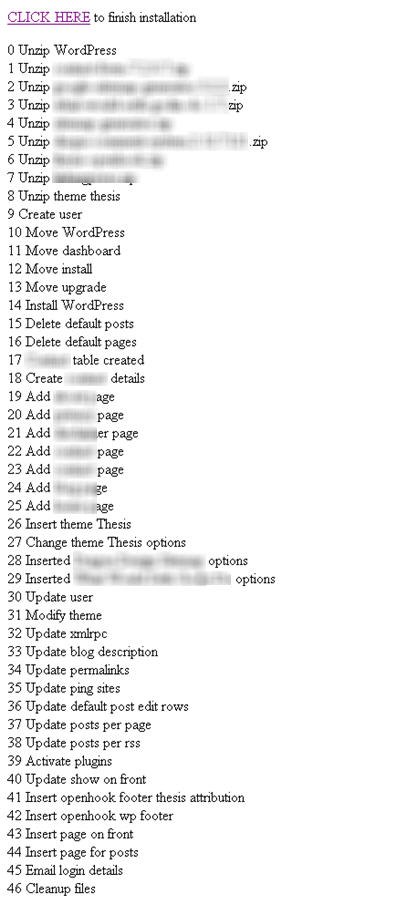 4) Done