"And in the beginning" … what a great opening line.
Time to start building a brand for myself. Get out and press the flesh with the people. Shake some hands, get pictures taken with the babies, break ground on the new skyscraper. Oh, sorry, wrong conversation.
Where was I? Oh, yes, talking with you. Letting you know what's going on around here. Telling you my great plans for this little old weblog out on the internut.
I guess I should start with what I have planned for this site. After I spruce up the interior a little – a new paint job, refinish the floors, new kitchen cabinets … no, no, no, no – there I go again, getting off track.
Actually, I do mean I need to spruce up the interior of this weblog a bit. Give it a solid foundation to build on. Stuff like tricking out the title – get rid of that damn raquo thing, you know that 'greater than symbol' that services no worthwhile purpose. I have the latest and greatest version of WordPress running this site. Not sure what all of its capabilities are, noticed a bunch of widgets running around when I went to muck around with the presentation. I'll have to wrap my head around widgets and I see if I like what I have here. Or maybe just do it the old fashion way and edit using vi on the command line. Something like this.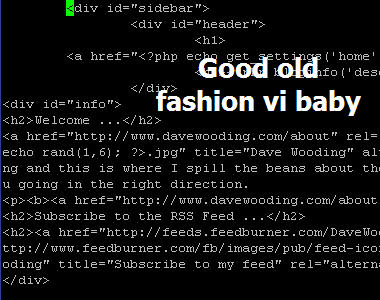 Dont' worry, I won't make you touch it, it doesn't hurt.
Once I have the look and feel stuff done, will move on to adding analytics – maybe Statcounter or Google Analytics for tracking.
Of course, I'll make the effort to build a list of subscribers – plan on making it worthwhile by giving stuff away. When I say stuff, I mean useful PHP scripts – kind of like what Robert Plank does at his site.
Then I'm going on a bender and getting setup with a bunch of Web 2.0 stuff for promoting this bad boy blog. De.licio.us, onlywire, propeller, youtube, slideshare – whatever else I can think of to toot my own horn.
I have thought about linkbaiting. Already have in mind who I'm targeting – going for the big fish on this one. Title will read something like "_____ ____, I have your wife hostage." The ironic thing is I have something to back it up with – something I bought November 2007 when I first found out about this little factoid. Cloak and dagger stuff – ohhh, ahhhh, exiting!
And to finish up, I'm going to click on those links I just dropped and see if I can attract any attention over here.
Once the blog is created, you can start promoting your business and sell new or used products in your website. Products like used office furniture warehouse if you would like ideas about home decor visit mobiles accessories, computers spares and so on.