Using Putty and SSH.
This is perfect if you want to be able to watch your visitors in real time without having to do anything.  Anything besides setting up anyway. Which is really fun to do after you have purchased a bunch of services from SEO in Cincinnati or what have you. This way you can have fun watching the numbers go up.
Start by downloading the Putty program.  This program will allow you to login to your web server and view your visitors in real time.
Once you have downloaded the program to your computer, you will see a screen like this.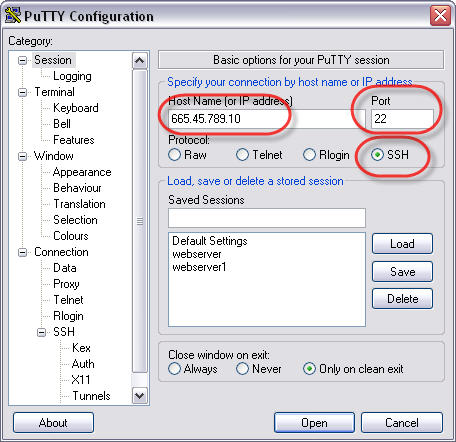 You will need to know your web server's I.P. address.  Type the I.P. address into the text box that says Host Name (or IP address), make sure that Port is set to 22 and Protocol: has SSH selected.
Click on Open and a black screen will pop open prompting you to provide a username.  For *nix type servers (Unix, Linux), the username is almost always "root".  Type that in.
Next provide the server password.  The server password is typically NOT the same as your web site control panel login password.  Contact your tech support if you are not certain.
Next, you will want to change directory (cd) by typing at the prompt:
cd /usr/local/apache/domlogs
Now you want to move into the web site specific subdirectory.  The next subdirectory will be the username of the website you are interested in.  For instance, if your web site domain is mywebsite.com, your username would typically be the first 8 letters of your domain, in this case mywebsit.
cd mywebsit
The next command to use will display the latest visitors to your website and include information like I.P. address, referrer (if available), time / date, page, browser type, etc.
tail -f mysebsite.com
Everytime a page is visited on your web site, Putty will update the display to show the latest information.
When you are doing watching the show, hit the Ctrl-C keys and you will be kicked out of the real time visitor stats.
Ctrl-C
When you want to totally get out of Putty, type "exit" and the Putty program will shutdown.
exit
[youtube]http://www.youtube.com/watch?v=dOZsoZ9JX_U[/youtube]
The video shows you where to download putty (hint, go to google and type in putty), how to configure Putty (takes 30 seconds if you know your web server's I.P. address and password), how to change directory and what to type in to view your web site's visitors in real time.