This was inspired by Robert Plank's Black Hat PHP ebook.
So you know, I am working on increasing my online exposure. Part of the way I am doing that is giving away some of my stuff – show you what I can do. If you have been a regular reader of this site, you know that I am creating a database driven affiliate web site that I am going to give away (how to you get a free site, you ask? Use the signup form and get on my mailing list).
Additionally, I have recently added a feature that gives you the possibility of making money from this site.
If you refer people to this site and they either signup or purchase one of my products that I sell on Clickbank – you can get credit using a special link to direct visitors here.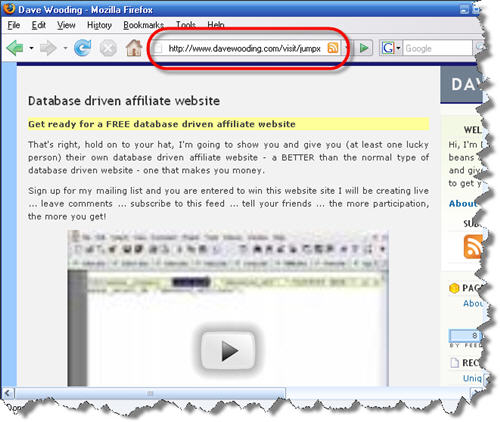 Send people to this site using the following link: http://www.davewooding.com/visit/cb_aff
Replace the cb_aff with your ClickBank affiliate id (IMPORTANT: do NOT put a trailing slash (/) at the end or it won't work)
Your affiliate link will show up in the autoresponder:
Any emails I sent out for a product of mine will have your affiliate id embedded.
Also any product that I sell off of this page via Clickbank (yes, there is a product for sale):

If you are familiar with looking at the html code, go look at it now – see if the html code looks similar to what I just showed you. If not, type in this link in your brower's address bar, http://www.davewooding.com/visit/cb_aff (replace the cb_aff with your affiliate id).
So there, I have come clean with my intentions – I'm looking to increase my online exposure and am willing to pay for it!